Main technical characteristics of Horizontal Directional Drilling Machine
Views:5 Author:Site Editor Publish Time: 2020-08-28 Origin:Site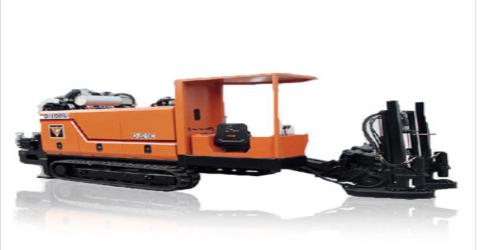 Main technical characteristics of Horizontal Directional Drilling Machine
(1) The width of the drilling rig is 1100mm, and the main engine and mud pump are integrated. It is suitable for transportation in narrow tunnels and directional drilling in small and medium coal mines.
(2) The new multi-azimuth rack structure integrates horizontal azimuth rotation, up and down lifting, tilt angle adjustment and longitudinal and transverse anchoring. The tilt angle range is -90~+90°, and the azimuth angle adjustable range is 0~360°. Full-face drilling of head-on, roadway is carried out in a narrow drilling field, and the opening height and inclination can be quickly adjusted; the vertical and horizontal composite anchoring structure of the frame is adopted, and the drilling rig has high stability during deep hole drilling.
(3) The Horizontal Directional Drilling Machine can quickly realize the roadway head-on and the full-face moving anchorage of the roadway. One machine has the functions of directional drilling construction such as heading face-to-face drilling, bottom-drawing tunnel full-face drilling and low-level drilling in extremely thin coal seams.
(4) The frame adopts cylindrical guide rail and double-cylinder propulsion mechanism, which has large propulsion and pulling force and stable and reliable drilling.
(5) Adopt single-action control hydraulic system, open and close controllable rubber sleeve chuck and rubber sleeve holder, with high reliability; both chuck and holder adopt high pressure resistant and wear resistant rubber sleeve, the material is Imported polyurethane has long life, high reliability and low replacement rate.