What is the reason why the reverse circulation rig does not produce water after hdd boring machine
Views:93 Author:Site Editor Publish Time: 2020-08-11 Origin:Site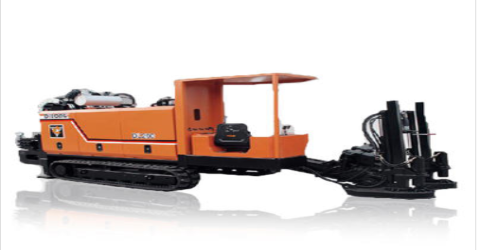 The principle of the hdd boring machine is to put the drill pipe into the borehole filled with flushing fluid, and rely on the rotation of the rotating disk to drive the airtight square transmission rod and the drill bit to rotate and cut the rock and soil. The lower end of the drill pipe sprays compressed air. With the cut soil, sand, etc., a mixture of mud, sand, and water vapor is formed in the drill pipe, which is lighter than water. Due to the combined effect of the pressure difference between the inside and outside of the drill pipe and the pneumatic volume, the mud, sand, water and air mixture rises together with the flushing fluid, and is discharged to the ground mud pool or water storage tank through the pressure hose. The soil, sand, gravel and rock debris are in the mud Precipitation in the pool, the flushing liquid flows into the manhole.
Features of hdd boring machine:
1. Compared with imported reverse circulation drilling machine, this reverse circulation drilling rig has the advantages of light weight, high cost performance, and low maintenance costs.
2. The reverse circulation drilling rig is equipped with a mechanical arm for connecting drill pipes, which can be used in straight holes and small top angles. At the same time, the drilling rig is also equipped with auxiliary hydraulic drawworks, which greatly reduces the labor intensity of the machine workers, which is conducive to the safe and civilized construction of the machine.
3. The hdd boring machine adopts engineering crawler and hydraulic walking chassis, which is convenient to move and is more suitable for plains, plateaus, hills and other landforms. The chassis is equipped with 4 outriggers, and hdd boring machine has low vibration and good stability during drilling construction.
4. The reverse circulation hdd boring machine is driven by electric power, with low noise, low pollution, high efficiency and large power reserve coefficient.
5. The reverse circulation hdd boring machine is a multifunctional type, all key components are cost-effective products, and the system is equipped with pressure protection and alarm devices.
6. The handles and instruments of all actuators of the reverse circulation hdd boring machine are located on the console, which is convenient and reliable for operation and control.
7. The reverse circulation hdd boring machine adopts a unique drill frame, large drilling distance, large torsion resistance, simple structure, convenient maintenance, easy relocation, convenient orifice operation, and large top angle drilling.
8. The reverse circulation hdd boring machine adopts a large power head with large impact resistance. The rotation speed is suitable for air reverse circulation. The lifting force, torque and other parameters can meet the requirements of 100M shallow air reverse circulation down-the-hole hammer drilling.